In this Guide we are going to show you step by step how to buy Cardano, where to store it and witch are the safest wallets.
What is Cardano?
Cardano is an open-source and decentralized cryptocurrency that has entered the top 10 cryptocurrencies for market capitalization seemingly out of nowhere. It is a relatively new project that began in 2015 and became available for trading only in October 2017. The token is called ADA.
It should be emphasized that we are talking about something that is still at the initial stage and, to date, without a functioning product. So, what made Cardano a popular investment with a market capitalization of over 30 billion dollars?
Cardano is a unique project, as it is a distinct attempt to change the way cryptocurrencies are designed and developed. In fact, in the initial phases of the project there was no white paper or roadmap. On the contrary, there were a number of principles and practices. Cardano follows a scientific approach and this is reflected in his own team, which consists of engineers and academic researchers.
Together, Cardano team members are developing a smart contract platform with advanced features. The ultimate goal is to create a cryptocurrency that takes the best features from different projects. The Cardano platform is currently being built on levels, which will allow maintenance and easier upgrades. One of the levels will manage the smart contract, while Cardano will also deal with decentralized applications (Dapps).
The first official use case of Cardano was announced in December 2017, with the potential to store diplomas of Greek students and to check them on Cardan's Blockchain.
How to buy Cardano
1. Choose a Wallet: Cardano is a young project that is still very much in development. For this reason, there are very few wallet options available to store ADA tokens.
Desktop wallet
The only desktop wallet is Daedalus, which can be downloaded via the official website. This is an open-source cryptocurrency portfolio for ADA. The idea behind this wallet is to grow with the community, becoming a sort of universal wallet, a blockchain application platform and an app store. The Daedalus wallet is available for Windows, Mac and Linux. A desktop wallet tends to be safer than a web wallet, but is still vulnerable to malware.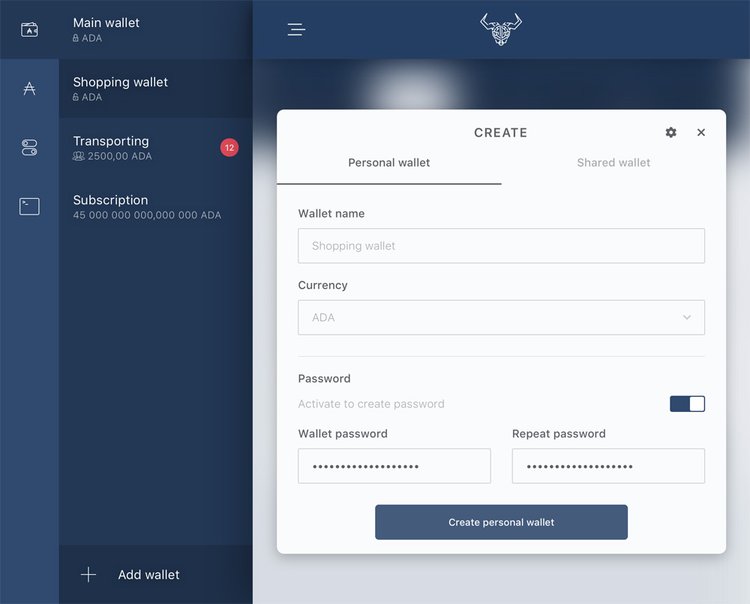 Hardware wallet
A hardware wallet is a great place to store cryptocurrencies as it is offline and protected from viruses and malware. Although it is not yet possible to store ADA in a hardware wallet, it is thought that Ledger Nano S will support it in the near future.
Web wallet
There is currently no web or online wallet available for ADA of Cardano. For this reason, do not try to download any web wallet that supports it – it will almost certainly be a scam. Although a web wallet can offer a lot of convenience to the user (can be controlled at any time and wherever there is an internet connection), it is one of the types of less secure wallets available.
Mobile wallet
Cardano engineers are currently designing and creating a mobile wallet for Android and iOS. This will provide users with the convenience of checking their budget and making transfers on the go. Although you can find some mobile wallets on Google Play and the App Store, none of these is reliable enough.
2. Buy Cardano in an exchange
As Cardano became available in the exchange only in October 2017, there are still not many places to buy it.
Binance
It is incredible to think that Binance was launched only in 2017. In a short period of time, this exchange of cryptocurrencies based in Shanghai has become one of the most popular on the square. On Binance, dozens of cryptocurrencies can be found, including ADA, which has both the BTC and ETH pairs. Unfortunately, there are no fiat currency payment options, but the exchange is relatively simple to use and with relatively low commissions.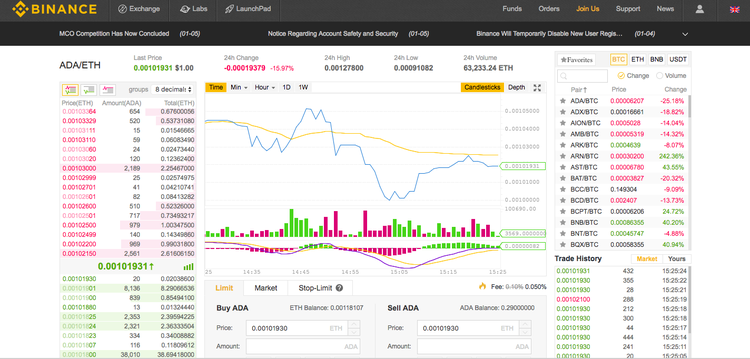 Bittrex
Launched in 2014, Bittrex is an exchange with a huge number of cryptocurrencies supported. On Bittrex you can buy ADA and exchange it for BTC or USDT. As with Binance, there is no deposit option for fiat money, so unless you already own BTC or USDT, you will have to buy one of these currencies elsewhere using a different payment method (bank transfer, credit card, etc.) before transferring it to Bittrex.
Buy Cardano with cash
There is currently no way to buy Cardano ADA with cash. What you can do is buy Bitcoins with cash and then exchange them for Cardano in one of the cryptocurrency exchanges listed above (or via Changelly).
Buy Cardano with a credit card
Although it is not yet possible to purchase Cardano directly with a credit or debit card, there are ways to be able to buy cryptocurrencies using this payment method before negotiating them for ADA. One of the easiest ways to do this is with Coinbase. Registration is quick and easy and you can get Bitcoin or Ethereum in just a few minutes. You can then transfer them to an exchange that has Cardano on its list to exchange them.
How to buy Cardano with PayPal
As for cash and credit cards, it is not yet possible to purchase Cardano with PayPal. It is hoped that there will be more options in the future, while cryptocurrencies will continue to grow in popularity. What you can do is go to LocalBitcoins or VirWOX, which both allow you to buy Bitcoin via PayPal. Afterwards, simply transfer your Bitcoins to a Cardano cryptocurrency exchange.
3. How to withdraw ADA in your wallet
Usually we advise you to withdraw coins from the exchanges as soon as they are purchased, so that they are under the full control of their holders. However, there are not many Cardano wallets available at the moment and the Daedalus wallet is only available for desktops. If you can install Daedalus, then it is probably best to transfer your coins into this wallet. If this is not possible, you will have to leave them in the exchange. Be sure to protect your account properly.