Cardano (ADA) has long been referred to as the Ethereum of Japan. Much like Ethereum (ETH), this cryptocurrency supports the launch of new coins on top of its blockchain platform. But, unlike ETH, the Cardano coin is much younger – and there haven't been any new tokens launched on the main net yet. That is all about to change, however, as there are already token sales lined up that will take advantage of the ADA decentralized application (dApp) technology: Sp8de (SPX) and Traxia (TMT).
A lot of coins want to overtake Ethereum (ETH)
As more companies choose to launch their cryptocurrencies on top of the ADA network, we will see how much better it is than Ethereum – we already know that it is faster, cheaper, and can handle way more processing. But, let's be honest, guys. There are a ton of dApp-enabling platforms out there "threatening" Ethereum.
Not only does Ethereum have the massive advantage of the fact that it came first and several successful new coins have already launched using its technology – there are seemingly countless projects that are seeking to challenge the dominance of ETH. Coins like Nano (NANO), Tron (TRX), Verge (XVG) and Ripple (XRP) are all powerful cryptocurrency options that are also working on better-than-Ethereum versions of Ethereum (just like Cardano is).
The dApps that launch on top of this network will also play a large part in its coins price path. So, let's see what these two new ICOs have to offer the crypto space.
Traxia (TMT): The first Cardano token sale ever
The first token sale to launch on this platform is called Traxia (TMT). The pre-sale is currently active, but the public Traxia ICO will begin on March 19th – and they will accept both ETH and ADA.
This coin is geared toward the invoice financing world – where there are subject matter experts (SMEs) and freelancers who often get stuck with accounts receivable from clients who don't pay up. According to Traxia (TMT), there is a $43 trillion market full of unpaid invoices, and they are using blockchain technology to fix that.
It is a faster and cheaper alternative to centralized invoice selling marketplaces that already exist – and on this platform users get paid in fiat currency, which will certainly help a lot of users feel at ease about the potential volatility of this coin's value.
As you can see above, it's also backed by a well-regarded crypto investing organization:
But, obviously, that's not the only ICO launching on top of this dApp platform.
SP8DE (SPX) is betting on blockchain-based gambling
Online gambling is a massive market, and this cryptocurrency is trying to get in on that action using blockchain technology to offer users a better experience. SP8DE (SPX) has completed the first few legs of its public token sale – and it reached its soft cap already.
View image on Twitter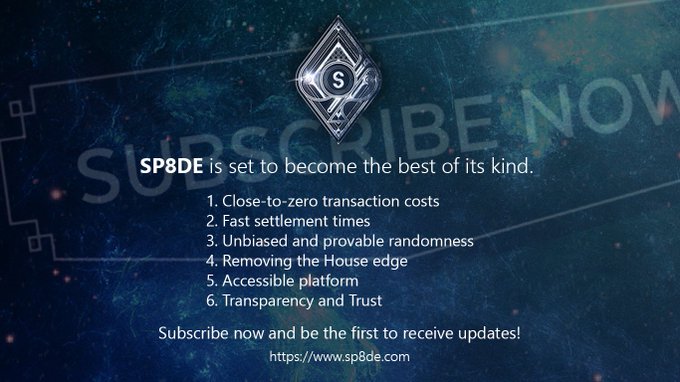 So, what kind of gambling platform is this? It's a cheap one that emphasizes guaranteed randomness generation for all users. On its site, it says:
"The core of the SP8DE platform is the so-called Khronos protocol. It will be capable of outputting random numbers at arbitrary frequencies serving as a smart-contract powered API for generating on-chain entropy. Building on top of the Cardano blockchain, our protocol is based on commit-reveal mechanism, the only 100% bullet-proof method to generate distributed randomness."
This isn't the first online gambling cryptocurrency to jump on the scene, but it looks like a strong project from our point of view – and it's also backed up by ADA technology.
This post appeared first on theusacommerce.com